About Junia AI
From individuals, startups to enterprises, we use AI's full potential to help you create high-ranking content and reach your audience 10x faster.
Why was Junia AI created?
As SEO professionals and owners of multiple niche sites, we have first-hand experience with the complexities of the content creation process.
The task was often overwhelming and presented numerous challenges.
1
Difficult Content Creation
Come up with content ideas, do keyword research and write the actual content.
2
There's more...
Ensuring the content is detailed, comprehensive and incorporate visuals, links, SEO metadata and more.
3
And the most difficult part?
Ensuring that our written content would please Google's algorithm and rank well.
Despite searching for a solution among existing SEO AI writers on the market, we found none that could genuinely produce SEO-optimized content - most were just false marketing gimmicks.
So, we built one ourselves.
Our Journey
MVP version was launched
In late March of 2023, Junia AI's development work was started.

Junia AI was launched at 5th of Apirl 2023. Featuring bulk content generation and being able to edit up to 100 articles simultaneously in one view.

We started putting the software to use on our own sites ourselves and constantly improving it.
Further growing Junia AI
Not only did our own websites benefit from Junia but our customers' sites also started to see a significant increase in traffic and revenue.

50,350+ users acquired in the first 5 months of Junia AI's launch.

800,000+ articles created and 250.00 million+ words written by Junia AI.

We are comitted to improving Junia AI and finding ways to help our customers grow their websites.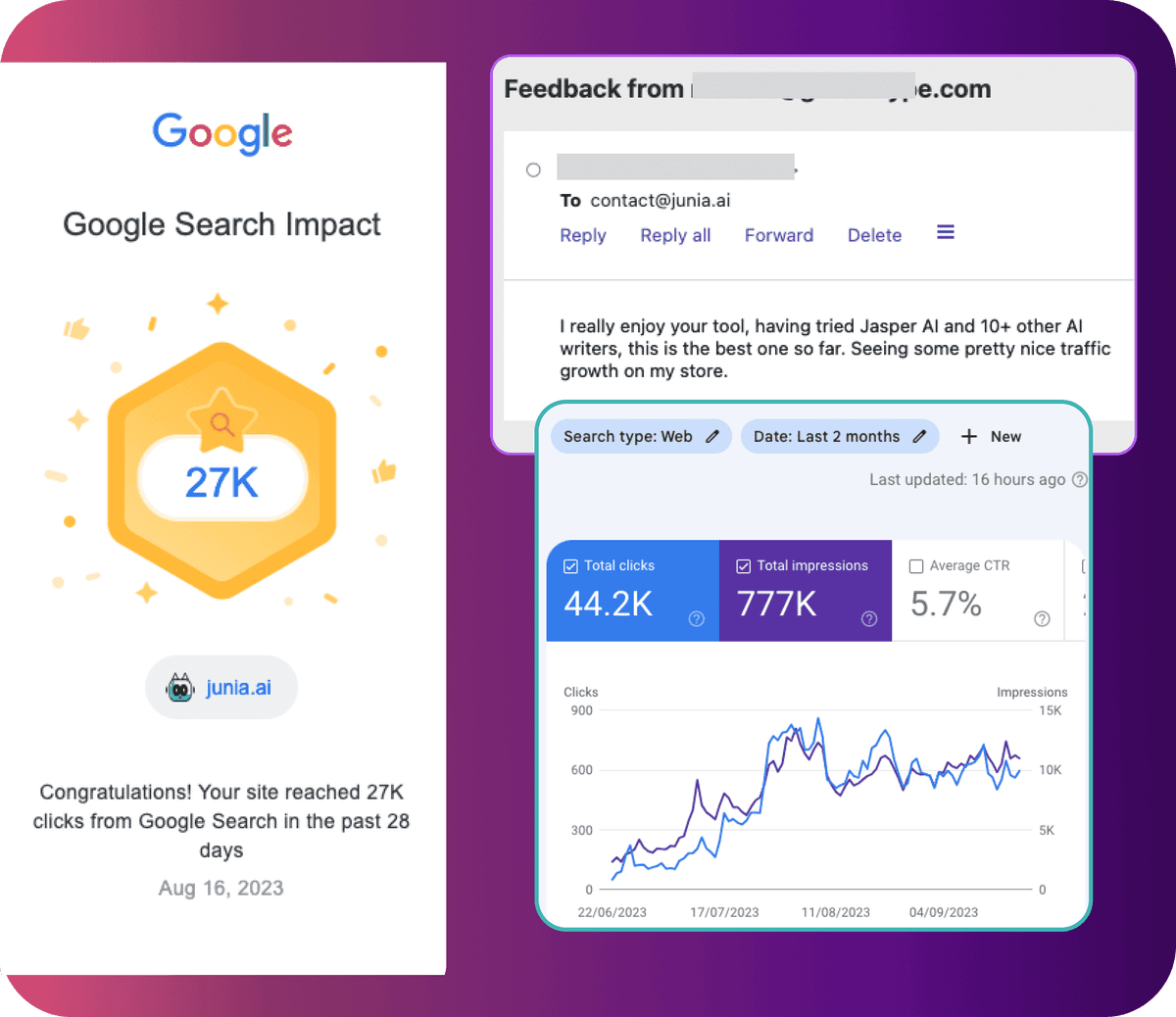 Our Vision
We are committed to continuously improving Junia AI - your #1 AI writer for SEO content creation.
Our goal is to make your life easier by driving more organic traffic, reaching your target audience, and effectively growing your websites.
So you can spend less time on content creation and more time focusing on your business's growth.
Skyrocket Your Traffic in 2024
Effortless writing with AI-powered tools. No more writer's block or blank pages. Write 10x faster and create high-quality content easily.
Works in over 30 languages